Dr Jean-Pie Gauci-Maistre, Managing Partner of Gauci-Maistre Xynou Legal / Assurance informs us about the activities of his law firm, the opportunities of investing in Malta and his plans for the future.
We would like to take this opportunity to introduce Gauci-Maistre Xynou(Legal/ Assurance) and the people behind the firm to our readers. With this in mind, could you please provide us with an overview of Gauci-Maistre Xynou(Legal/ Assurance) and what brought about its formation?
Gauci-Maistre Xynou (Legal/Assurance) is a boutique Greco-Maltese firm which was formed with the main scope of bridging the divide between the legal and assurance services sectors, particularly within the maritime and financial services industries. Putting it quite bluntly, advocates and accountants speak different languages. We view and interpret situations very differently at times and therefore approach tasks in a different manner. Neither approach nor interpretation is incorrect. On the contrary, in their respective sectors, both are correct. However, we strongly believe that very often there isn't enough coordination between the legal and accountancy professions. This is very much something we wanted to tackle head on. By ensuring a seamless transition where the role of an advocate ends and that of an accountant begins or vice-versa, we can only ensure that a better service is on offer.
This is very much what Despoina Xynou and myself had in mind when we decided to create GMX. Despoina, is a Greek national who, having successfully read her law degree at the Democritus University of Thrace, was admitted to the Bar Association of Volos. She also read her M.Sc. in Maritime Studies before relocating to Malta in 2012. Ever since, she has been practising her profession in Malta and is recognised to practice in Malta. Despoina specialises in Ship and Yacht Registration, Ship Finance, Mortgages and International Taxation (with a main focus on international tax treaty agreements). She handles many of our portfolio of financial institutions as well as much of the contract drafting and negotiations of investment.
Miss Xynou has long experience drafting and negotiating loan agreements, deed of covenants, sale and purchase agreements, franchise agreements and joint venture agreements. As part of her international tax practice she structures and implements
internationally tax efficient structures in accordance with double tax treaties and the European directives and regulations.
My academic and professional background is not that different to that of Despoina.
Having graduated as a lawyer from the University of Malta, I read my M.Sc. in Maritime Studies in Ship Management at the World Maritime University and sat for the exams of ICS' Professional Qualifying Examinations (PQE) (Ship Management). Before returning to Malta I spent some time in the EU Commission cabinet for Fisheries and Maritime Affairs and in the operations and legal department of the internationally renowned ship management company, Eastern Mediterranean Maritime Limited. This also provided me with the opportunity to spend time as a supernumerary on board various types of vessels. Having returned to Malta I took up the post of in-house counsel to GM International Services Limited, which is one of the longest established firms specialising in ship and yacht registration under the Malta flag. As my legal practice grew over the last decade, the decision was taken to set up Gauci-Maistre Xynou with Despoina, who I had been working with for a few years.
So as you can see from our academic and professional background, the maritime industry is very much at our core. Also, whilst the Gauci-Maistre Xynou/ GMX brand, is very much in its infancy, in the sense that it was only launched in January 2015, Despoina and myself could rely on a good amount of experience to help us develop the brand. Furthermore, the last 18 months or so have been a whirlwind ride and we've been actively recruiting in order to keep up with the continuous growth of the firm. We are trying to remain as proactive as possible in order to avoid the usual pitfalls of growth.
We've therefore recently recruited senior associates to ensure that the quality of service offered does not suffer whilst also ensuring that there is no bottle neck at top management level.
Through its creation GMX brought various lawyers and accountancy professionals to work together under one brand, with one common aim: to develop a common language spoken by lawyers and accountants that is understood by stakeholders. At GMX we therefore strive on a daily basis to ensure that our clients and business partners have one point of reference that can tackle their legal and financial endeavours with one voice.
Today, GMX is proud to represent some of the largest industry players in various sectors, particularly the maritime and financial services industries. GMX brings together a group of professionals with decades of experience in the international professional services industry.
What is it that keeps on attracting stakeholders in all sectors to invest and relocate to Malta?
Five years ago we used to speak of how Malta was beginning to be considered a safe jurisdiction for international investors. Today we can very proudly say that Malta is continuously being regarded as a strong and safe jurisdiction. Whilst this may seem as a slight distinction to many, for Malta it means that as a financial services centre, we can begin to be relied upon for larger and more complex structures and licensing requirements. Whilst corporate structures are still very much a service for which Malta is considered, gone are the days when this was practically the sole reason why stakeholders would consider Malta as a corporate and finance jurisdiction. It is for this very reason that Despoina and I felt that lawyers and accountants need to collaborate more closely. The financial services industry is getting more complex and more specialized. Simultaneously, the economic crisis has made stakeholders more penny-wise. The economic crisis also became a good excuse to justify cost cutting and for re-negotiating. The bottom line remains that the demand for efficiency and for cost cutting is the greatest it's been in recent history. To achieve this level of efficiency and reduce costs as much as possible, be it trimming the excess of reduce tax leakage or the incurrence of fines, can only be achieved through close collaboration between the two professions.
So does the maritime sector remain an important sector for GMX?
Whilst today GMX has flourished into a brand under which clients expect to receive fully-fledged be-spoke legal and assurance services, the co-founders of GMX have their roots firmly set in the maritime industry. Over time, industry demands dictated that as GMX's client base grew so did the practices in which it was involved. We therefore recruited strategically to ensure that we can develop the one stop shop we wanted. Nonetheless, Despoina and I both continue to specialise in maritime law, albeit it, in different niche markets. This naturally whilst tackling the growing administrative burdens that come with growth. As many tell us, a good headache to have. The Malta maritime flag has experienced year-on-year growth since Malta's accession into the EU. The Malta flag now leads the pack as the largest European maritime flag and as of 2014, the sixth largest in the world. Malta still remains a flag of choice for the major players and as the statistics indicate this year the Malta Ship Registry will see even more impressive numbers. So it is natural that we continue to focus on our core business.
However, ship registration remains a part of a much bigger maritime sector. Malta is regarded as a strong and safe maritime jurisdiction which has been constantly growing throughout the years.
Apart from offering a stable legal and fiscal regime, Malta has a flag administration which is always on the go and ready to accommodate the various needs of all stakeholders as they evolve, but always within the rules and in respect of the various conventions. In addition, Malta caters for efficient corporate and tax structures with regards to the shipping industry, as well as in other sectors due to industry demands for more sophisticated financial solutions.

Ms Despoina Xynou, Partner/ Advocate, Gauci-Maistre Xynou (Legal / Assurance)
Malta's ship arrest legislation and procedures have increased Malta's prominence in the maritime industry. Probably some 30-40 ships are arrested each year in Malta without any fuss or fanfare. Summarily, a ship may be arrested, whether as a precautionary measure pending a decision on an outstanding claim or not, if said ship is physically in Maltese territorial waters, irrespective of the flag the ship flies, subject to the overall length of the vessel exceeding 10 metres and the claim for which the ship is arrested is worth a minimum of €7,000. Maltese law also provides for no dealings orders wherein a creditor may request the Court to issue an injunction that would prohibit any dealings or sale of a vessel and/ or prohibit any changes in its Maltese flag registration, including its deletion thereof.
The protection Maltese law offers financiers has been recognized as one of the best, particularly in the case of default by the mortgagor wherein the mortgagee is entitled to take possession of the vessel and proceed with the sale thereof if the mortgagee so desires.
Furthermore, given that the mortgage is an executive title (no need for a court judgment for a mortgagee to enforce its claim) the mortgagee may apply to the courts directly for a judicial sale by auction to be carried out. Both systems are tried and tested and have proven to be effective.
Therefore, directly connected to the arrest of vessels in Malta are the Judicial Sales by Auction procedures as well as the Court Approved Private Sale. The highest bidder in a Judicial Sale by Auction will acquire a clean title. The Merchant Shipping Act provides that where a ship is sold pursuant to an order or with approval of a competent court within whose jurisdiction the vessel was at the time of sale, the interest of the mortgagees as well as of any other creditor in the ship shall pass on to the proceeds of the sale.
It is interesting to note that in Malta I it is possible for the creditor himself to be the highest bidder at such an auction. In such a case, the value at which the vessel is purchased under the auction is set-off, or partly set-off against the debt in question. This is known as an animo compensandi bid.
Having said this it is very much a reality apparent to all in the industry that a number of problems, in particular the recognition of judicial sale of ships by a foreign court, have been encountered by the international shipping industry. It is for this reason that the Comité Maritime International (CMI), began exploring the primary issues in relation to judicial sale of ships, namely, the concept, the titles, the effects, the international recognition, etc. with the scope of proposing an international uniform approach. The reaction of the Draft International
Convention on Recognition of Foreign Judicial Sales of Ships – Beijing Draft, which is intended to apply to all member states of the United Nations, is definitely going to be of interest to the international maritime community.
Such is the interest that we see cases of banks deliberately and intentionally having vessels, already arrested in areas such as the Black Sea, steam to Malta for all procedures to be carried out from Malta.
Alternatively, the Court-Approved Private Sale offers creditors of an indebted vessel a fast-track and simple remedial mechanism, by which a request is made to the superior Courts of Malta to approve the private sales of a vessel. This amendment was introduced to address the disadvantages of judicial sales by auction.
By means of such an application and subject to certain procedures being followed, in case of default, a mortgagee may still ultimately sell the vessel to a private buyer, thereby being able to fetch the most reasonable price (as would be the case in a private sale) but also allowing the buyer to benefit from purchasing the vessel free and unencumbered (as in a judicial sale by auction).
The relevant law stipulates that the creditors making this request to the courts must possess an executive title and the sale must be in favour of an identified buyer at a determined price. The law also states a number of requirements that need to be satisfied in order for the court to approve the private sale; which are:
A mortgagee finds a private buyer of a vessel at an agreed price, which should be equal to, or greater than, two previously obtained valuations by independent and reputable appraisers of the vessel. It is also incumbent on the applicant to adduce to the court evidence that such private sale is in the interest of all known creditors and that the price offered by the proposed buyer is reasonable in the circumstances of the case.
The mortgagee files an application in court, exhibiting copies of the memorandum of agreement and the valuations obtained, and requesting the court to approve the private sale and to appoint a person who can transfer the vessel by means of a bill of sale to the new buyer for the agreed price. This sale is affected free and unencumbered.
The mortgagee can therefore negotiate the best price for the sale of the vessel, which is affected free and unencumbered. In a case earlier this year, the Court even allowed that the same mortgagee purchases the vessel himself through a court-authorized private sale.
The largest maritime flags all offer similar key attributes which any shipowner and manager worth their salt demand as the absolute minimum. In my opinion, what has begun to distinguish one flag from another are other factors such as the wider financial industry elements. The range of services one can avail themselves of means that as stakeholders familiarize themselves with Malta, they begin to diversify their portfolio in Malta.
Nowadays, due to industry demands and partly heightened by the economic crisis, ship-owners and managers have begun to demand more sophisticated and tax efficient structures. A shift has been noted with respect to the requirements which both ship-owners/managers and banks need satisfied prior to proceeding. There is more and more interest being seen in Malta's funds structures, Banking licences and the Corporate and Tax Structures in general; all in relation to the maritime industry as well as beyond.
The numerous double tax treaties that Malta has concluded with the world's major trading partners as well as with emerging countries has become a crucial selling point, particularly where China is concerned. To date, treaties are in force with 70 countries and this policy is expected to continue in the future. The firm's international desk allows the firm to offer unique tailor made legal services ensuring that an internationally holistic approach is adopted for every case. Today our portfolio of clients are from all corners of the world and it is extremely active in major shipping and financial services areas such as New York, London, Athens, Dubai and Singapore.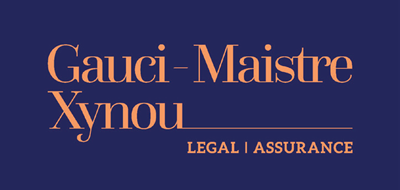 Gauci-Maistre Xynou
147/8, St. Lucia Street • Valletta, VLT 1185 • Malta
Email: info@gmxlaw.com • Website: www.gmxlaw.com
As for the future, what do you have planned for GMX?
We will continue to work with the same fervor in order to maintain steady growth.
We will likewise be taking stock of everything in the coming months in order to give us time to regroup and consolidate our practices. Growth is all well and good however with growth comes the need to adapt and/or rethink practices and procedures which may have been good
initially but which no longer apply given the size of the firm. We also have plans in the pipeline which we will be well received by the maritime industry but that's as far as we will reveal at this stage.
Disclaimer: 'The content of this article is intended to provide a general guide to the subject matter and should in no way be construed as advice. Specialist advice should be sought about your specific circumstances.'
Interview to Efi Kollia